Where Michael Jackson, consumer culture and contemporary art co-exist
The Polygone Riviera on France's Côte d'Azur is the latest shopping mall which not only features retail stores, but also exhibits contemporary art.
It's where the middle classes go on coffee dates, watch movies and spend their hard-earned cash on buying designer clothes and getting manicures. While shopping centres may be at the heart of contemporary consumer culture, these spaces are not usually synonymous with contemporary art. At least, not until now. An increasing number of sculptures, light installations, oil on canvas works and performance art pieces have found unconventional exhibition spaces in shopping malls across the globe.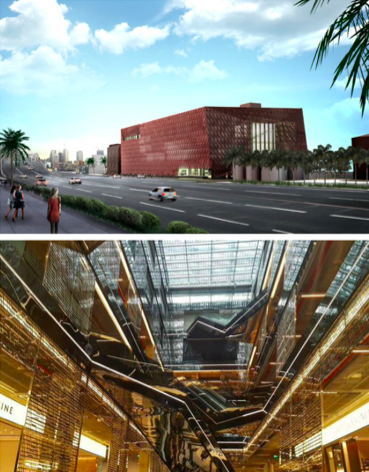 Luxury retail tycoon Tony Salamé's Aïshti Foundation opened its doors in October this year in what was reportedly a gathering of the who's who of the contemporary art world. The luxury Beirut shopping mall, designed by British-Ghanaian architect David Adjaye, not only features designer stores like Dior, Saint Laurent, Marc Jacobs and Cartier, but also encompasses a private museum. For its first exhibition, "New Skin", curator Massimiliano Gioni, artistic director of the New Museum and director of the Trussardi Foundation, chose works by Danh Vo, Lucio Fontana, Christopher Wool, Sterling Ruby and Alice Channer, many of which come from the Salamé's private collection.
In an interview with W Magazine, Salamé says that via the complex, he wants to make international artworks accessible to a wide swath of Lebanese. "You will be able to spend the whole day here: Have a coffee, meet friends in one of five or six restaurants. The best thing you can do is see the art, but you can also have your hair done," he said. The foundation describes itself as an 'important milestone for the future of contemporary art in the region', but the flipside of the coin, of course, is that exhibiting contemporary art is a way to attract the high-income clients who will frequent the Gucci, Céline and Alexander McQueen boutiques.
In fact, high-end shopping arcades, centers and malls have been commissioning artworks since they were invented in the 19th century for exactly this purpose, Glenn Weiss writes in the Arts Journal. Modern-day examples include Aventura Mall, a luxury shopping destination a stone's throw from Miami beach, which features artworks by Lawrence Weiner, Jorge Prado, and Julian Opie. Similarly, the Akmerkez Shopping Mall in Istanbul has hosted exhibitions by Turkish artists as part of its "Art at Akmerkez" project since 2003.
Meanwhile in China, the young billionaire Adrian Cheng has made headlines for his ambitious K11 Art Mall, where he promotes contemporary art via the K11 Art Foundation. The two existing art malls, in Shanghai and Hong Kong, feature store aisles lined with works by Yoshitomo Nara, Olafur Eliasson and Damien Hirst. Through his 'commercial museums', as he dubs them, Cheng claims to have created a new retail and culture experience where, in essence, consumer culture and contemporary art breathe the same air. The project has been so successful, that Cheng is building 17 additional mallswhich will integrate gallery and exhibition spaces.
Now, the idea has made it to Europe. In France, a newly built open-air shopping centre, the Polygone Riviera in Cagnes-sur-Mer, features a permanent exhibition of sculptures scattered at strategic places between stores and restaurants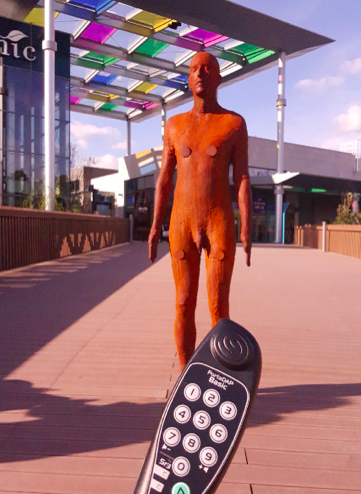 While it may be the first of its kind in France, Artistic Director of Polygone Riviera Jérôme Sans, co-founder of the Palais de Tokyo in Paris and its director until 2006, would hardly call the idea of art in shopping malls a phenomenon. "These types of spaces have existed in Japan for almost 20 years," he says.
The unenclosed space, boasting the fantastic weather of the French Riviera, invites visitors (shoppers, in layman's terms) to discover a collection of 11 sculptures on permanent display scattered around 750,000 sf. "The art here is not something that was added as an afterthought, to decorate the space," Sans emphasizes. "It was conceptualized right from the start. We wanted to create a new type of space where people can think about the topics the art addresses."
As the sculptures are exhibited en plein air, Sans comments that they couldn't manipulate the environment to accommodate the art, as is often the case in more traditional exhibition spaces. It also seems the open-air atmosphere provides visitors a chance to interact with the art in a way that would be impossible in any other space. Pablo Reinoso's two sculptures, Twin Bench and Banc d'amarrage, created specifically for the project, literally serve as benches where shoppers can catch their breath. In front of H&M, visitors have already, perhaps instinctively, transformed English duo Tim Noble and Sue Webster's Double Negative Fountain into a wishing well.
The creators have taken the interaction one step further by providing a museum-style audio guide, along with information about each artist, in the form of a free app. And if strolling among the artworks has worn you out, you can enjoy a drink or a pastry on one of the café terraces overlooking the fountain, which features an animated watershow to the beat of Michael Jackson's Thriller. All the while being watched by the giant installation Le Guetteur (The Watcher) by Sacha Sosno.
Do the surroundings detract from the art? Wang Du, whose sculpture China Daily — Top 10 Profiles Of The Urban Male (2007) is featured at the Polygone, says seeing his art in a shopping center is just like seeing it in any other public space. Still, it remains a shopping center, albeit a one featuring carefully curated artworks.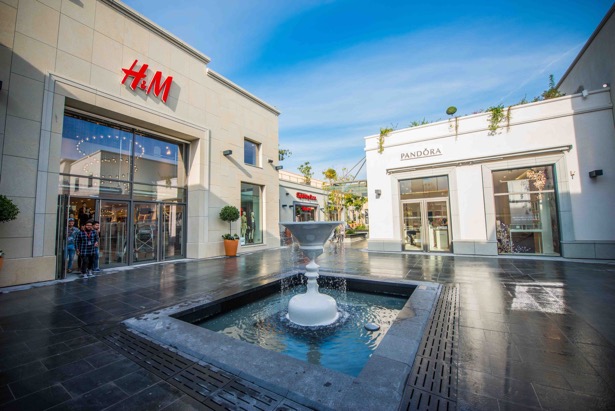 Photos: Courtesy Aishti foundation / Antony Gormley, Another Time XIX (2013), Tim Noble & Sue Webster, Double Negative Fountain, Photo via Fashionmag
Shané Barnard