A SMARTER WAY TO TRACK ART
ID 4 ARTS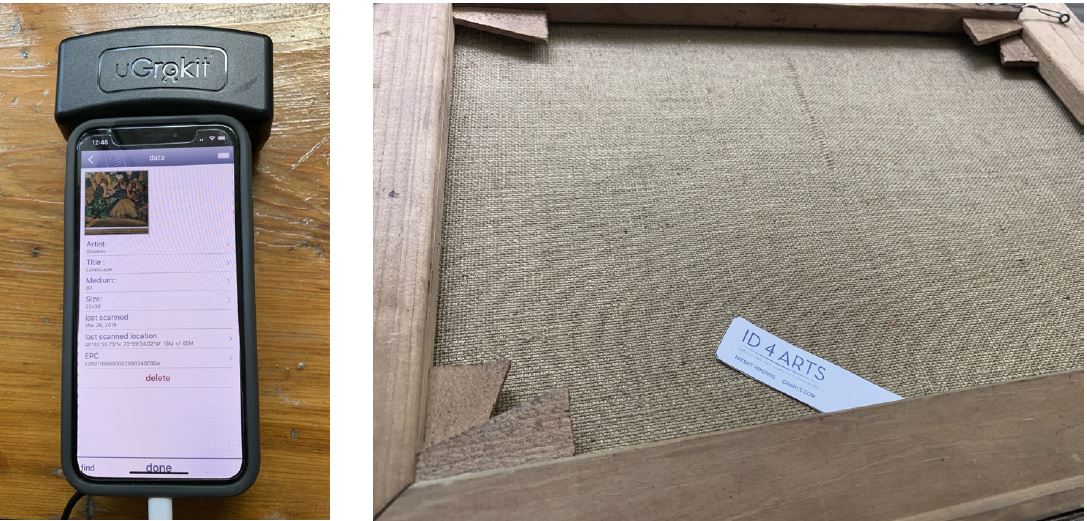 (LEFT) A report has appeared on a collector's smartphone screen; the phone has been temporarily attached to the plastic handheld reader (at top). (RIGHT) An identifier ready to be adhered to the back of a painting
Collectors may be glad to learn of a new product, ID4ARTS, that helps identify, locate, count, and secure their artworks more efficiently.
Similar technology is used for cargo systems worldwide, so the entrepreneurs Steve and Anne Halliwell, who live near New York City, rightly wondered why it could not be adapted for art. They have spent four years developing ID4ARTS with engineering and design experts and now want art lovers to know about it.
ID4ARTS centers on an "identifier," which resembles a gummed label in size and appearance. Backed with an adhesive trusted by conservators for decades, the identifier is pressed onto the artwork in an inconspicuous spot. (On paintings, it is usually attached under the stretcher so thieves cannot see it.) The identifier contains a microchip that is the size of a grain of sand and has a unique Electronic Product Code baked into it. (The EPC has 24 digits and is similar to a serial number.) The chip is tamperproof and will cease communicating upon any attempt to cut, peel, or otherwise remove it, automatically triggering an alarm.
Next, the collector downloads the ID4ARTS app to a standard smartphone and temporarily attaches it to a small handheld plastic reader with an antenna on its top. Aradio beam sent from the reader "wakes  up" the chip. Thanks to this RFID (Radio Frequency IDentification) technology, the reader and chip can communicate through canvas, paper, plastic, ceramic, and stone, and also through frames, packaging, and even artworks stacked together.
The reader can communicate with as many as 200 different chips per second, which means collectors can quickly identify every artwork located — for example — in a crowded storeroom. The resulting timestamped reports pop up on the smartphone screen. Each report contains data already entered into the system (such as the artist's name and the work's photo, title, medium, and size), but also when and where it was last scanned. All of this proprietary data is encrypted and can be stored on a server, on the cloud, or linked to relevant databases operated by such partners as security firms, insurers, financial advisers, blockchain platforms, and collection managers. Not every collector may need such sophisticated technology, but for those who seek a better handle on exactly what is where, ID4ARTS may be the answer.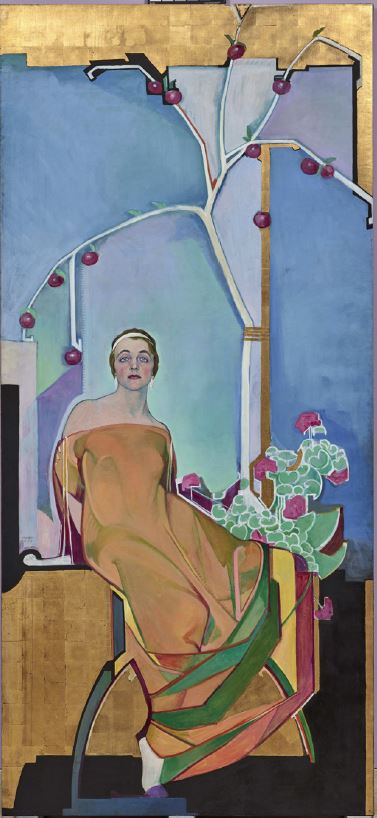 EDWARD STEICHEN (1879–1973), In Exaltation of
Flowers: Rose-Geranium, 1910–13, tempera and gold
leaf on canvas, 120 x 55 in., Collection of Art Bridges
A MAJOR REDISCOVERY
EDWARD STEICHEN: IN EXALTATION OF FLOWERS
Orlando Museum of Art and Mennello
Museum of American Art Orlando, Florida
omart.org and mennellomuseum.org
through January 12
Between 1910 and 1913, the artist Edward Steichen created a seven-panel mural titled In Exaltation of Flowers. Inspired in part by the Symbolist writer Maurice Maeterlinck's 1907 book The Intelligence of Flowers, it features portraits of the couple who commissioned it, the philanthropists Agnes Ernst Meyer and Eugene Meyer, Jr.; the collector Charles Lang Freer; the mezzosoprano and dancer Mercedes de Cordoba; the artists Katharine Rhoades and Marion Beckett; and the dancer Isadora Duncan. All are paired with their floral counterparts — a decorative commemoration of a remarkable friendship circle.
This season the mural is being exhibited at the Orlando Museum of Art while the nearby Mennello Museum of American Art displays 20 photographs that  Steichen took of these friends, as well as his wife and muse, Dora. The photos have been loaned by the Minneapolis Institute of Art, George Eastman Museum, and Metropolitan Museum of Art.
Visitors exploring both presentations will better understand the fascinating relationship between Steichen's painting and early photography. They will also learn that the mural has not been seen in more than a century because it was consigned to storage at the Museum of Modern Art (New York) after the Meyers donated it. Fortunately, it was purchased from MoMA by Art Bridges, a new foundation founded in 2017 by the philanthropist Alice Walton and dedicated to expanding access to American art. Art Bridges proceeded to underwrite the mural's conservation at the Dallas Museum of Art, where it was unveiled last year.
NOVEMBER / DECEMBER 2019 FINEARTCONNOISSEUR·COM